When Ming Tien foodcourt was torn down in 2017, my husband and I were working in USA and we remembered talking about it on Skype with families, lamenting how we will miss having late dinners and oyster omelet there with our friends like old times. Our disappointment soon disappeared in the wind when we found out what was going to be built upon the land where Ming Tien previously occupied – a low-density condominium, Megah Rise, that would be perfect as our permanent home after our working experience abroad.
Right after we came back to Malaysia in 2018, we visited the sales office and were greeted by the friendliest salesperson Sharon. It doesn't take long for her to walk us through the plans and facilities of Megah Rise before we decided that it will be our permanent home where we will build our family in future. It is perfect for us as not only because Taman Megah is one of our most frequented neighborhood to obtain our necessities, but also one that will bring us closer to our parents and siblings who live within 5 minutes' distance in SS3. Having been overseas for more than 10 years, we'd very much love to spend more time with our families, especially our aging parents, and living in Megah Rise will allow us to do so. 
Here, we'd like to share some colors of our personal lives to explain why living in Megah Rise would be perfect for us. In short, the neighborhood almost has all that we need. My husband and I are a very routine couple and here are some places that we frequent in Taman Megah on a weekly basis:
Every Saturday morning, we'd visit the Taman Megah market to get some fresh fruits and vegetables. After that we'll cross the street and get a good fix of dim sum in Kee Hiong Dim Sum Restaurant (Image 1). In our opinion, they still serve the best Char Siew Bao and Lor Mai Gai in PJ by far.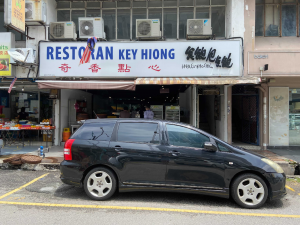 On Sunday morning, we'd spend a good long hour in Joy's bakery (Image 2), an unassuming traditional Hainanese Coffee Shop that serves very authentic marble cake, Hainanese fried chicken chop and hands down the best blueberry cheese tart. Over time we'd made friends with the owners so much so that when we arrive, they'd already know what we like to order.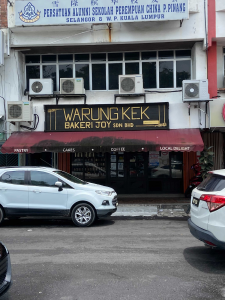 134 Mixed Rice stall (Image 3) is also one of our main sources of lunch as we're currently also living nearby and working from home in Petaling Jaya.
As weather gets overly heaty, we'd usually stop by Little Herbal Tea (Image 4) to get a few bottles of Lor Hon Go to prevent us from sore throats. Sometimes we'd also get a few cans of beer from Mega Herbs & Grocery next door.
Sometimes we'd drive slightly further away to Atria Shopping Gallery to get some groceries in Village Grocer or dine in nearby restaurants. 
Thanks to Sharon who is a very attentive and passionate sales agent and now also a friend, we're always kept up-to-date with Megah Rise management team's plan. We understand that the management team has carefully considered the existing facilities and shops in the neighborhood and are planning to enhance by bringing in new brands or shops to the commercial areas of Megah Rise. We'd be utmost excited to see additions such as mid to upper-tier grocers with imported goods, artisan café and roasteries, bars, cinema, gym or other sports facilities such as indoor rock climbing etc, that will bring younger crowds to the neighborhood. 
Lastly, despite the delay in completion of construction due to Covid pandemic, we're grateful that Megah Rise continue to keep us updated. While we cannot wait to move in, we'd hope that all parties involved in this project, including consumer-facing sales team, behind-the-scene management team and construction team, remains safe and healthy. We have no doubt that we'd be more than grateful when the project finishes and we're confident that the neighborhood will in no time become the top gathering spots for our friends and families.  
– by Ng Hui Xian